Splash Access
Footfall Analytics
Guest WiFi
Identity Services
IoT Security
Proximity Marketing
Online to Offline Marketing
Network Management
Cisco Meraki splash pages for WiFi that integrates into Paypal, Stripe, MailChimp, Azure, Gsuite, Mailjet, Zapier for marketing and Authentication.
1K+
Customers
29K+
Endpoints
Instant, custom splash pages for WiFi access

Splash Access allows you to automatically provision a custom splash page solution that integrates into the Meraki cloud instantly. Splash Access authorizes users onto the Meraki network, collects customer data (name, email addresses etc.) and integrates into APIs from major marketing tools like MailChimp, Twilio, Zapier, Constant Contact and social networks like Google, Facebook, Twitter, LinkedIn etc.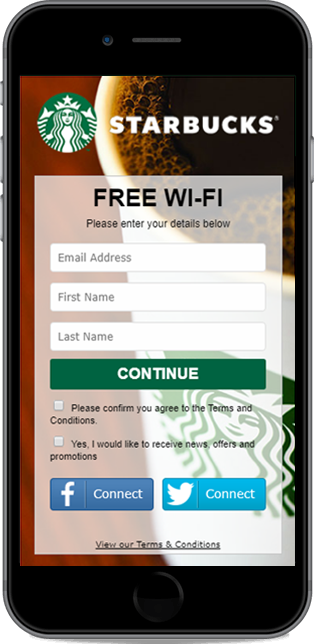 .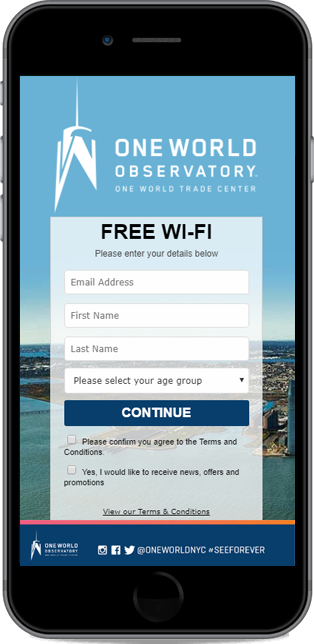 Once this data is collected, you can then create, manage and implement targeted proximity marketing campaigns to wireless visitors. Proximity Marketing is the ability to provide a smartphone user with digital information based on their physical proximity to an object. For example, a person walks into a store and stands near a shoe display.
The proximity marketing system will provide information to their app about the shoes on sale, or other marketing information. The user has to install our app to receive beacon signals and trigger notifications. We've created our Proximity App for this purpose, so you have no development cost. We provide the tool to manage notifications - what content should show when and where. 
Splash Access is suited for hotels, retail outlets, shopping Centres, outdoor wireless events, exhibitions, concerts and any other visitor-based Wi-Fi hotspots globally. Splash Access is an Information Technology company based in the UK providing Web Development, Computer Support and Bespoke Application Development to small and large business customers. 

Create a custom splash page instantly with SplashAccess and start capturing data. We can work with any system / CRM / API  of your choice to collect data and allow you full control of the look and feel of your SplashAccess Meraki Splash Page.

Corporate guest access can be managed by our Ambassador system.  An easy to use visitor administration system were the receptionist or Staff member decides whether to send out Logon information in one of the following ways: SMS, Email or Mail, authorising a guest user onto the network with only a couple of clicks.
The Meraki Splash Ambassador system supplies an email to a list of nominated Ambassadors whom can then Authorise the access of the guest from a simple yes / no window.
The Guest ambassador account gives organisations an easy way to restrict guest access to a wireless network, granting access to your guest Wi-Fi on an individual basis for increased security without increased complexity. Splash Access is now capable duel Authentication into Cisco Meraki and Cisco WLC devices

This new update for Splash Access allows you to create a custom splash page that can be integrated with our Education / Campus  Module through the Meraki Portal, allowing Campus providers the ability to control access and allocate personal Dorm VLANS in one easy to use system.
Splash Access has now developed a device on-boarding portal that will allow a client to self administer device Mac authentication for network access onto the correct Vlan and Group policy for devices that do not support captive portals.
NEW FEATURE  - IPSK Dashboard
Splash Access is pleased to announce the release of its IPSK module for education and corporate access . This standalone module integrates with Meraki portal to create an easy to use secure onboarding portal . Each user can choose their own Private Shared key and control their own devices with our simple to use device management portal . 

SplashCMX from Ormit Solutions enables clients to use location data from the Cisco Meraki cloud to make defined business decisions and increased understanding of  foot fall to their locations, you can find out where visitors locate and spend most of their time instore, and how they move within specific locations.
SplashCMX can use both WiFi and Bluetooth data from the Meraki feed to create a detailed overview of all your locations.
Features:
Foot fall overview and trendsFoot fall by internal locationDevice TypesDwell TimesReturn ratesLocation heat-mapsUser tracking in real timePDF / CSV Downloads

Cisco Meraki devices now have the ability to charge for WIFI access using Stripe or Paypal . The Gateway Checkout offers a beautiful, customizable payment flow that works great across desktops and mobiles.
Splash Access has now updated its Stripe and PayPal modules to allow you to start accepting all major debit and credit cards on your captive portal instantly. 
With Stripe and PayPal, you get your money fast. When the order is complete, the money usually shows up in your  business account within minutes. From there, transfer it directly to your bank account. SplashAccess takes zero commission and all the money you earn is yours. 

NEW !! Expand Your Mobile Footprint With Splash Access Wallet system . Our Wallet marketing solution makes it easy for you to maximize the benefits of Google Pay (formerly Android Pay / Google Wallet) and IOS Wallet With simplified personalization and engagement, Your brands can get closer to your customers at the right time and place.

Splash Access is pleased to announce the first integration into the New Cisco Meraki MV Sense location analytics API .  All new Splash Access accounts will now have the capabilities to set camera threshold alerts with text messages via Twilio .
This can be extremely helpful in businesses in the retail sector, who can now send alerts to managers for example when more than 20 people have been seen in a zone within a time frame .
The Meraki MV camera eliminates many of the underlying costs and complexity of owning and operating video surveillance systems. The elimination of all physical components, other than the camera, is highly attractive to a wide range of organisations. This broad appeal leads to users with a diverse set of requirements , SplashAccess is now perfectly placed to broaden the capabilities of the Camera with direct integration into the Meraki API .

A new feature on all accounts have the ability to offer secure WPA2 Encrypted guest Wi-Fi with rotating keys and QR code login. This feature is exclusive to Splash Access and Cisco Meraki devices.
Splash Access is designed Exclusively for Cisco Meraki and Cisco WLC and operates Globally.
Customer Results
Gerald R. Ford Intl Airport

Gerald R. Ford International Airport is a commercial airport in Cascade Township approximately 13 miles southeast of Grand Rapids, Michigan. The facility is owned by the Kent County Board of Commissioners and managed by an independent authority. In September 2017, the airport celebrated the opening of phase one of their Gateway Transformation and as part of the upgrade Cisco Meraki access points and Splash Access was deployed in the terminals for delivering Guest WiFI with Smart Adverts .

Splash Access Medicaid Guest WiFi

Medicaid provides health coverage for some low-income people, families and children, pregnant women, the elderly, and people with disabilities . Splash Access provides a simple authentication mechanism for on-boarding guests at key locations.

8+ Billion Dollar Retail Company Deploys Splash Access Globaly

One of the worlds largest apparel company has deployed Splash Access accross its global Cisco Meraki network. Using a Custom version of Splash the client has deep iAPI ntergration into their CRM and Data warehouse . Further intergration and deployment has now been made to utilize the new Splash Acecss Advanced Anyalytics module to better understand Footfall , dwell Times and customer return rates.

Telecommunications service provider in Ontario Canada provide City Wide WIFI

SplashAccess has completed a city wide deployment on over 300 Access points to provide WIFI access for guest and an enhanced premium service integrated with the Telcos radius server . Customers login to the Splash Access portal with their own customer credentials and enjoy speeds upwards of 10 meg per client.

Major Premier League Football Club Deploys Stadium WiFi

A Major UK Premier league football club has deployed a custom version of Splash Access to provide Guest WIFI in the VIP area of the Stadium . The solutions request additional information inc Season Ticket inforamtion, Visitor information and standard fields . The data is then sent via a direct API link into the teams marketing system for analysis and triggers an email campaign.

Splash Access for Higher Education Client

Splash Access is working on delivering our Education module to a large University in the U.S.A with over 20,000 Students . The solution allows the University the ability to create a custom on-boarding splash page that can be integrated with our Education Module allowing students the option to control access and allocate personal university VLANS in one easy to use system .
Use Cases
SplashAccess is iPad / Tablet, Desktop and Mobile friendly and we aim to look great on all devices
IPSK Dashboard with RADIUS Authentication
By working closely with Cisco Meraki over the past 6 years we are able to offer our customers the best possible cloud Wi-Fi experience.
Opera Micro integration with dynamic Vlans for rooms
SplashAccess have created a version of SplashAccess that allows you to display different Splash Pages based on your Meraki MX Vlan ID .
Create a custom splash page instantly with SplashAccess and start capturing data. We allow you to fully control the look and feel of your SplashAccess Meraki Splash Page.
Azure identity provider integration for authentication
Shibboleth IDP Single Sign-On capabilities, authenticating users to guest WIFI
Splash Access for Cisco Meraki is now capable of rotating WPA keys on the Meraki network every 24 Hrs. This gives you the opportunity to offer secure encrypted guest WIFI every day
The Meraki Splash Ambassador system is a straight forward easy to use visitor email administration system that can authorize a guest user onto the network with only a couple of clicks within an email client.
Use advanced cisco meraki location analytics to get insights into visitor behaviours Within all your locations
Custom Cisco Meraki API Integrations inc Webhooks
Custom API intergrations into third party applications
Support Details
Full support 24x7 https://www.splashaccess.com/knowledgebase/ https://support.zoho.com/portal/splashaccess/home