V-App | IoT Builder
Build Smart IoT applications in the Cloud
IoT Builder for MT is the tool created to integrate with the Meraki MT series of environmental sensors. It can be used to protect your IT infrastructure as well as in different areas in order to monitor environmental anomalies, intrusion, water leaks and much more.
Make sure to have immediate visibility into critical events that can lead to risks in your workplace.
V-App collects and analyses data from any digital source, proactively revealing complex scenarios, patterns, and sequences of events. With V-App IoT Builder for MT you can now building Smart IoT Applications in the Cloud to protect your business environment.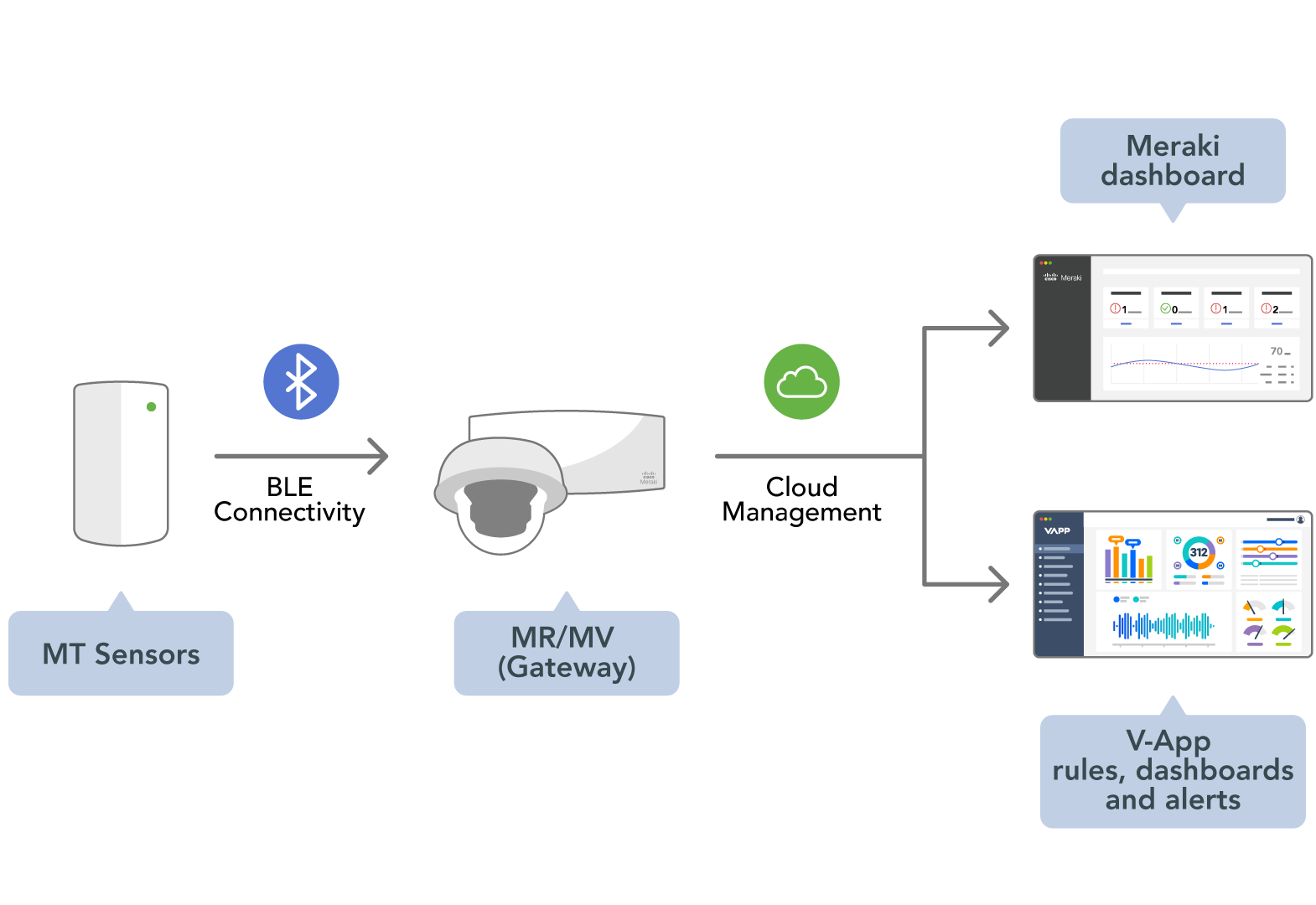 V-App for IoT can be used in many different areas, such as:
Warehouse & Depots
Datacenters & Server rooms
Pharmaceutical Storages
Office Workplaces
Refrigerated Rooms
While other solutions are:
Complicated to set up - Installation requires on-prem server configuration and manual device pairing
Not fast to deploy - Require hardware installation for network connectivity and power
Difficult to share access - Data cannot be shared across different servers and users must have local accounts
Slow to update - Reporting setup is outdated and cannot easily get firmware updates
V-App IoT Builder for MT and Meraki sensors are:
Simple to Deploy - Feature peel & stick installation with flexible alert management for real-time visibility
Cloud Managed - Reliable and secure cloud-management removes the need of on-prem servers
Seamlessly Scalable - Manage thousands of sensors out-of-the-box and provision them in minutes
Intuitive to use - Reporting and management from a single pane of glass for all networking equipment
IoT Builder for MT is ideal in case of adverse weather conditions, unreliable HVAC systems, old buildings, critical inventory, always-on operational requirements, sub-optimal network closets, physical intrusion vulnerabilities, or whether there are no local IT.
Key Features
Use Cases
Iot for Education Make the school a safer place. Safe place to stay Monitor the entrances and send alerts in real time when an unexpected event occurs. Livable place to live Keep the school environment always at the optimal temperature, making sure that the environment is always comfortable. Water disaster prevention Prevent flooding by quickly sending alerts. All alarms received by the sensors activate the Cisco Meraki cameras installed to have a real-time snapshot of what is going on.
IoT for Data center Data center under a proactive surveillance Entrance and racks Use sensors to monitor the entrance to your datacenter and individual racks. Right temperature and humidity for your devices Avoid technical problems with networking devices, keep temperature and humidity under control. No water in your datacenter Keep water leaks under control with Water Leak sensors. All alarms received by the sensors activate the Cisco Meraki cameras installed to have a real-time snapshot.
Iot for workplaces A better to work Safe place to stay Proactively control entrances thanks to sensors for doors, cabinets and closets. Temperature and humidity sensors Keep your workplace always at the right temperature and humidity Water disaster prevention prevent flooding by quickly sending alerts and activating the smart camera for a snapshot of the situation. All alarms received by the sensors activate the Cisco Meraki cameras installed to have a real-time snapshot.
Frequently Asked Questions
Contact
V-App – Smart Integration Platform Bizmate s.r.l. Catania, Italy